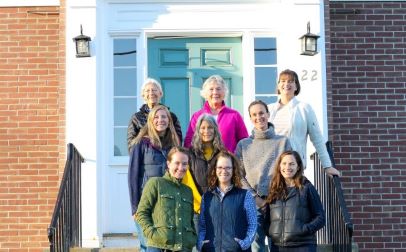 Friends of the Meriden Library
The Friends of the Meriden Library enhance the role of the library within the community of Meriden by initiating, organizing, and carrying out community service to encourage library use and enjoyment, supporting special projects for continuing education and learning for all Plainfield residents. 
The Friends of Meriden Library Directors
Leeli Bonney
Emily Boynton  (Secretary)
Shannon Decker (Vice President)
Sarah George
Amy Lappin
Susan Nugent
Vicki Ramos-Glew  (President)
Caren Sauders
Betsy Underhill  (Treasurer)
Join the Friends of the Meriden Library!
Individual $10/year
Family $15/year
Events are held throughout the year.
Annual Events of the Friends of the Meriden Library
January- Annual Membership Meeting including our Soup & Book Reviews program.
April- An Evening of Poetry in celebration of National Poetry Month. Join us to read, recite or listen.
August- End of the Summer Event. This varies, but in the past has included a visit from the ice cream man.
November-  A guest speaker of the NH Humanities Council program.
Would you like to know more?
Email: friendsofthemeridenlibrary@comcast.net
New members and programming suggestions are always welcome.
You can also support the Friends of the Meriden Library when you shop AmazonSmile.
Every time you shop Amazon will donate a portion of the purchase price. AmazonSmile is a simple and automatic way for you to support the library.