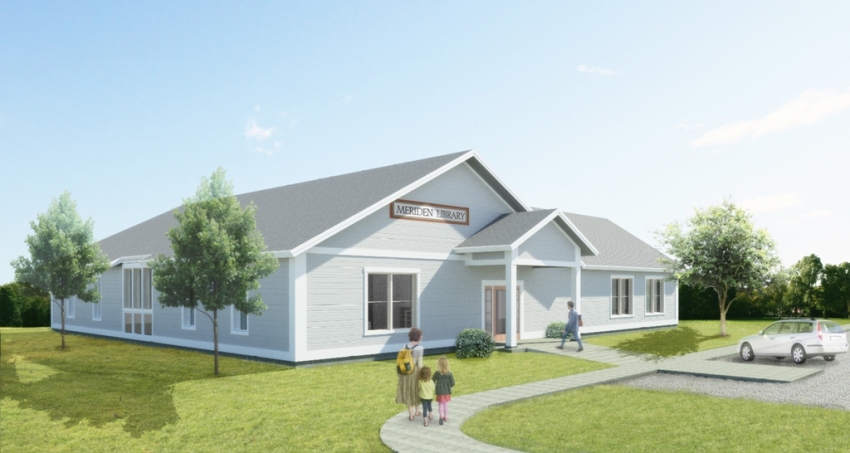 Meriden Library Building Committee Shannon Decker, Shawn Rogers, William Knight, Jeanne Woodward-Poor, Terri Crane, Joseph Crate, Leeli Bonney, Judy Hallam, Suzanne Spencer, Jeff Albright Advisors: Brad Atwater, Stephen Halleran, Mary King
MERIDEN LIBRARY BUILDING COMMITTEE REPORT
The Meriden Library Building Committee was formed in 2017 following the recommendation of our predecessor group: The Meriden Library / Meriden Village Study Committee. Our activities have built on the work of that group and several earlier groups who, since the 1990s, have studied the challenges of the existing facility namely;
 While the program is well supported by the community, the building is not accessible to all residents.
 Insufficient space for certain functions, specifically group functions
 Insufficient parking • Unsafe intersection of front steps and driveway
 Concern over the possible presence of hazardous materials
 The energy efficiency of a building built in the 1960s
With the benefit of the broad construction experience of committee members, we concluded that it would likely be more cost effective to replace the building vs renovating the existing facility. Initial broad-brush estimates suggested that we might be able to create a new facility for less than $1million. We worked with the trustees and town administrator to create a warrant article with a two-fold purpose: 1- to give the community the opportunity to decide if they wanted to do something about the long-studied issues with the building, and 2- if passed, to raise money to fund the development of a real plan and budget that addressed those issues.
With the passage of Article 7 our group began that work including;
 Space needs analysis: to understand current and projected needs. That analysis concluded that a single level facility with a modest increase in the reading stack spaces, the addition of multi-purpose group assembly space, built to current codes, would result in a building size of approximately 3600-3800 sf.
 Site survey: which identified existing site features. This survey was used to verify that a facility of the target size could be accommodated on the site with sufficient off-street parking to be in compliance with our zoning ordinance.
 Hazardous materials survey: This survey verified the presence of asbestos in the floor, wall, and window finishes. The presence of these materials complicates and substantially increases the costs associated with any renovation activities. It also confirmed minimal or non-existent insulation in the exterior walls.
 Preliminary soils analysis: which established the presence of good draining, if somewhat rocky soils, and the absence of subsurface water or ledge, which would have increased the costs of new construction. This information was also used to improve the confidence of initial estimates for site work, confirming that anticipated work could be completed within our targeted budget.
 Preliminary Landscape/Civil design: Contracted with Pathways Consulting to perform site review. This work confirmed that wetlands regulations would not be triggered in the anticipated work. It also confirmed that our plan complies with applicable codes and standards as well as local zoning. 55
 Building Schematic Design: Contracted with Bensonwood a design/build construction company for a schematic design for the building. This work provided a high confidence estimate (3-5%) for a construction cost meeting our targeted design and budget. This work included initial energy modeling and value engineering. We are proposing a new ~3700sf facility to replace the existing building. It will be functional, comfortable, highly energy efficient, and durable. It will include traditional and innovative details, fit the neighborhood and serve the community for years to come.
 Private Fundraising: Initial discussions concluded that the creation of a private foundation to conduct private fundraising was desirable because it would allow accepting funds from organizations that would otherwise not contribute to municipalities. The foundation now exists and has pledges and donation of approximately $500,000. Fundraising efforts are ongoing.
Throughout this process we have conducted regular public meetings, taking public comment as the plan evolved. A model and drawings of the project have been on display in the library, at town hall and posted on the town website. We believe we have fulfilled our mandate in an open and diligent manner and have brought forth a plan and budget for $975k which is less than the proposed maximum.
For more information about the Meriden Library Project go to:
For information on how to donate to the Meriden Library Building Fund email: merlibfoundation@gmail.com